How to get to Sarek and possible entry points
I here try to summarise my knowledge on how to reach Sarek. There are most likely other ways of doing it. If you have used some other entry point, I would appreciate if you tell me about it and I will add it to my description below.
Take the train to Murjek or Gällivare, this takes 24 hours from the south of Sweden, and requires then a change of train in Stockholm. In summer 2007 was it Veolia transport that operated the train from Stockholm. If you have time, take the train on inlandsbanan, Inland railway, between Östersund and Gällivare. Slow but nice, and note that this is a train for tourists and is not operated outside the summer season, which normally end mid August. A faster way is to fly to Lapland Airport outside Gällivare, there is one company flying to Gällivare (2007 it was Nordic Regional) from Stockholm. Note that it is not allowed to bring fuel for the cooking equipment on the airplanes.
From Murjek is, in connection with the train, a bus to Kvikkjokk (via Jokkmokk) where there is a fell station. From Kvikkjokk can one reach Sarek through Tarradalen along the Padjelanta trail, boat transport is available to the Padjelanta trail. If one walk north on Kungsleden is there after 6 km a track to Pårek or one continue on Kungsleden to Aktse. The track to Pårek is clearly visible, indicated with a sign, one can not miss it. There are regular flights (helicopter) from Kvikkjokk to Staloluokta, in Padjelanta national parc, a good start/end point west of Sarek. It is also possible to get helicopter transport to Aktse from Kvikkjokk. Another way to avoid the two day walk to Aktse from Kvikkjokk, is to go off the bus from Jokkmokk at Tjåmotis. Here you can, book in advance, take a taxi to the bridge at Sitoätno. If you come with your own car, take north at Tjåmotis towards Seitevare hydro power station and continue all the way to the bridge across Sitoätno, and parc at the bridge. From the bridge walk on the "bicycle trail" 10 km to the lake Laitaure. From here is a boat transport, or walk the 5 km, to Aktse. Last time I passed Aktse was there one tour per day. I have never tried this entry point.
Aktse is the entry point to Rapadalen, and there are regular boat transportation in the delta to the border of the park. At the border is a phone to call for transport for those coming from Sarek, but I don't know if one can trust it. If one do not want to walk in Rapadalen, the trail goes through forest, then one can follow a trail up to Skierfe and walk on the hills until Skårki forces one down in Rapadalen. This I have never tried. We walked instead across Jåkåtjkaskalako to the west end of Sitojaure. The forest at Sitojaure is rather trying. If the weather is good, take a day and walk up on Skierfe anyway, the view of Rapadalen is magnificient. The boat across Laitaure for those walking Kungsleden have a regular time schedule, last time I used it did it not operate on mondays. Rowing boats are available.
From Gällivare is a regular bus towards Ritsem, where there is a youth hostel. A few a times a day is there a boat across Akkajaure to the Padjelanta trail at Änonjalme, one day walk from the border of Sarek. From the Padjelanta trail, a few kilometers after the bridge over Vuojatädno, is a track passing Sjnuvtjudisjavrasj west af Ahkka. Then Sjnuvtjudisjåhkå or Suottasjåhkå must be forded. On the Padjelanta trail is a bridge across Sjnuvtjudisjåhkå, and from here one can walk either east of Gisuris towards Rouhtesvagge or west to Sierggavagge. Further on the Padjelanta trail, after the bridge of Sjpietjavjåhkå can one walk towards Guohpervagge. There are regular flights (helicopter) between Ritsem and Staloluokta, in Padjelanta national parc, which is a good start/end point west of Sarek. More flights are Kvikkjokk - Staloluokta. Instead of Änonjalme can one take the boat further to Vaisaluokta, and from there walk an alternative track of the Padjelanta trail. From Vaisaluokta is the Nordkalott trail to Hellemobotn, an alternative is to walk through Vuossjevagge and continue south of the mountain Ravdoajvve. From Kallaktjåkkå northeast of Ritsem, part of Stora Sjöfallet national park, do one have a nice view of Sarek. One can also take a bus between Kvikkjokk and Gällivare, with change of bus in Jokkmokk. It might be that one must stay overnight in Jokkmokk.
On the way to Ritsem is Kebnats, where there is a boat to Saltoluokta fell station. Kungsleden leads south towards Aktse, or one can go west through Pastavagge, or over the hills to Kukkesvagge. Boat transport is possible on Sitojaure between Rinim, close to Pastavagge, and Kungsleden. This is not on a regular basis, be prepared to wait if the driver do not feel doing one more trip that day (it takes at least 30 min one way, depending on the weather). One can book in advance. The boat across Sitojaure for those walking Kungsleden have a regular time table, rowing boats are available. It is also possible to get boat transport on Bietsavrre, west of Saltoluokta, or you can walk on the slope south of the lake if one aim for Guhkessvagge. I have not done this part. I have walked on the hills north of Sitojaure, a nice walk.
The quickest way to get into the heart of Sarek, is to go off the bus at Suorva between Kebnats and Ritsem. Here one can walk on a hydro power plant dam towards Kukkesvagge. There is a most of the time a visible track through the forest, at least at the beginning. When I walked there heading for Vuosskelvagge, was there no problem in following the track. Between Kebnats and Suorva is Vietas, where the tourist center Stora Sjöfallet is. From here is it possible to get boat transport across Langas. Coming from the other direction do one have to call for transport, phone is said to be available. One can also stay over night in the cabin Sjöfallsstugan. From the lake is a track through the forest that leads up on the plateau east of Alep Gierkav (Alep Kierkau), and further to the brook between the lakes Rissájavrre (Rissajaure) and Bietsávrre (Pietsaure), which must be forded. This entrance have I not tried.
Yet another way which I have not used is from Norway, by plane to Bodø or train to Fauske, from Fauske is a road to Sulitjelma. I think there still is a bus connection with Fauske. Sulitjelma is three to four days walking distance from Sarek. I have never done this, but I suspect the hike from Sulitjelma through Padjelanta is very nice.
Be aware of that boat/helicopter transports can be cancelled without notice due to bad weather. If you use the rowing boats, you must leave at least one boat at each shore.
I do not want to provide phone numbers or time schedules, since they may change without me noticing it. Please consult fell stations, hostels, the touring club, transportation, and other places. The personnel is always very helpful providing information. The swedish touring club has an uptodate information on phone numbers and schedules for boats on their pages: www.meravsverige.nu, select "Bra att veta" and then "Turisttrafik i fjällen". This information is in swedish.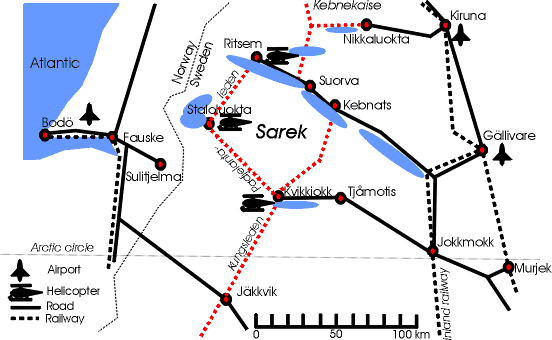 Short notes about the places
Bodö
is a town in Norway with harbour (hurtigrutten), airport and railway connections. There is a bus to Fauske and Sulitjelma. Bus to Jäkkvik. 30000 inhabitants.
Fauske
is a town in Norway with railway connections. There is a bus to Sulitjelma. 10000 inhabitants.
Gällivare
has an airport (Lapland airport) and railway connections north and south, it is one of the endpoints of the Inland railway. There are bus connections towards Ritsem and Jokkmokk. About 9000 inhabitants.
Jokkmokk
has about 3000 inhabitants, it is situated at the inland railway. Bus connection with Kvikkjokk.
Jäkkvik
a small village on Kungsleden. Bus towards Bodö and Skellefteå.
Different types of accomodation.
Kebnats
has boat connection with Saltoluokta mountain station, the bus between Gällivare and Ritsem make a stop here. There is a parking place. No inhabitants.
Kiruna
is a town based on mining. 20000 inhabitants. Airport and railway station. Bus to Nikkaluokta. Train and bus to Abisko.
Kvikkjokk
is a small village with 20-40 people living there all year. Youth hostel, and bus connection with Jokkmokk/Murjek. Helicopter to Staloluokta and Ritsem.
Murjek
is a small village with a railway station. Bus connection with Jokkmokk/Kvikkjokk.
Nikkaluokta
is the entry point to the Kebnekaise area. About 30 inhabitants. Well equipped for tourists. Bus to Kiruna.
Ritsem
has boat connection to Vaisaluokta and Änonjalme on Padjelantaleden. Youth hostel, bus connection with Gällivare. Helicopter to Staloluokta and Kvikkjokk. No inhabitants.
Staloluokta
is a summer saami village, helicopter connection with Kvikkjokk and Ritsem. There is a cabin on Padjelantaleden.
Suorva
is a bus stop for the bus between Ritsem and Gällivare. No inhabitants.
Sulitjelma
is a mining village. Bus to Fauske. Hotel.
Tjåmotis
is a small place with a few all year inhabitants, where the bus to Kvikkjokk stop.
Vakkotavare
is a cabin on Kungsleden where it reach the road west of Suorva. The bus between Gällivare and Ritsem halt here.